The café bombón is a sweet sensory experience and is traditional in the Spanish Levante region. This is the result of mixing the intense flavour of coffee with the sweetness and creaminess of condensed milk. Sounds delicious, doesn't it? If you are interested in how to prepare this recipe, read on!
Coffee bonbon recipe
The coffee bonbon or also known as bottle coffee, is a special coffee recipe because in just one glass, you have a spectacular and unique mixture of flavours, textures and colours. A real treat for the palate!
On the internet you can find numerous recipes for this type of coffee, although the truth is that some of them differ a lot from what is really a good and authentic bombom coffee or, as they call it abroad, a bombom coffee.
In this article you are going to find the best recipe for coffee bonbon. Read on to find out more!
Ingredients of the coffee bonbon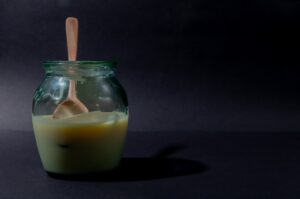 This recipe does not require many ingredients. They are listed below:
30 ml coffee (preferably espresso).
30 ml condensed milk
Optionally 50 ml condensed milk
Optional cinnamon
Optional cocoa powder
With these ingredients you have everything you need to make this recipe for the sweet tooth. If you are a sweet tooth coffee lover, you will be able to enjoy an incredible recipe.
How to make a coffee bonbon at home?
First of all we must prepare an espresso coffee, approximately 30 ml, and we must reserve it. If you don't know which coffee to use, we recommend that you visit our shop and choose the one you like best.
We have tried, particularly with coffee capsules, and we have obtained a delicious result. If you use coffee in capsules you will need a good coffee machine to prepare the coffee. In our shop you will find some good coffee machines, so we recommend you to have a look at them.
This drink is usually served in a transparent glass, as the aim is to be able to appreciate the different layers that form between the milk and the coffee. To do this, simply preheat the glass and add the cold condensed milk to the bottom of the coffee bonbon glass. Immediately after this, pour the coffee in very carefully, so that we can create the layers and have a real coffee bonbon with two colours.
TIP: In some sophisticated coffee shops they have given the recipe a twist by creating a third layer. There is no need for complicated techniques to create this third layer. Just add about 50 ml of milk foam and finish with a sprinkling of cinnamon or cocoa. If you don't know how to make milk foam, we recommend reading this article, you will find everything you need to prepare a good coffee.
So much for this article! We hope you liked it and found it useful. This recipe is uncomplicated, simple and delicious, thank you very much for your time and see you next time!