For many people, coffee is all they need to start a day in the best way possible. Or at least to make their day less hard. In some cases, the morning coffee is the first of many. However, is it good to drink so much coffee?
How many coffees can be drunk per day?
Many studies have discussed the benefits of drinking coffee on a daily basis, as well as the health risks of the beverage. These studies have brought to light some facts about the consumption of this beverage.
According to the Food and Drug Administration (FDA), coffee is considered part of a healthy diet for some people, however excessive consumption can be dangerous for various reasons.
The recommended dose of coffee can vary according to the specific situation of each person. According to the FDA, an adult can consume up to 400 mg of caffeine per day, which is equivalent to approximately 4 cups of coffee. However, some factors should be taken into account, such as a person's weight, if someone has a medical condition that conditions the dose of coffee that can be consumed, in case of taking medication it may be harmful and many other reasons.
Is it good to drink coffee every day?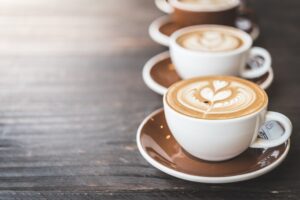 Coffee has different health benefits, but like any food, it should be consumed with moderation and head. The recommended amount of coffee per day is usually about 2 or 3 cups of coffee, since that way we do not approach the maximum consumption, but we have an adequate amount of this food and its properties in our bodies. So if you are also wondering how many coffees a day to drink, you already have the answer.
What happens if I consume more coffee than recommended?
Drinking more than 4 cups of coffee a day will not cause very serious problems unless it is an exaggerated additional amount. However, all said and done, it can cause many side effects such as headache, insomnia, nervousness, irritability, frequent urination, accelerated heart rate or muscle tremors (in a healthy person).
If you wish to reduce the intake of this beverage, you can let your body adapt to it gradually, for example by switching to decaffeinated coffee, since a sudden reduction can cause anxiety, due to the fact that your body is used to working with the effects of caffeine.
However, if you make a responsible consumption of this beverage, you will be able to enjoy coffee and all its benefits (such as the performance benefits of consuming coffee during a workout session), without having to worry about anything at all.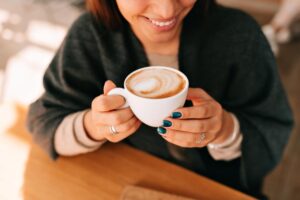 You should not be afraid of consuming coffee for the reasons listed above, since these problems arise from a non-responsible consumption. If you like coffee, keep enjoying it cup by cup!
We hope that you have been able to clear your doubts about how much coffee to consume without having problems and that you enjoy the consumption of this ancient beverage. Thank you very much for your reading time and see you next time!