Do you want to learn how to prepare a delicious frappé to satisfy your customers and get an added value over your competitors? Find out what it is and how to prepare this recipe by following our simple steps.
What is a frappé?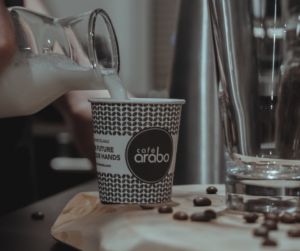 Frappé, also known as iced coffee, is a drink covered in foam and mixed with milk, which is very popular in Greece. This drink is usually served in the summer, as it helps to cool down and cool off from the heat. There is no single recipe for a good frappé, so the best definition is that of a cold mixed drink, like a slushy drink. In fact, the word comes from French and means milkshake.
History and origin of frappé
Greek frappé was born in 1957, when an employee was trying to find the best way to make hot instant coffee, but when he couldn't find water that was hot enough, he mixed it with ice. Today, there are many varieties of this drink, depending on who makes it and where in the world you want to drink it.
Ingredients to prepare a frappé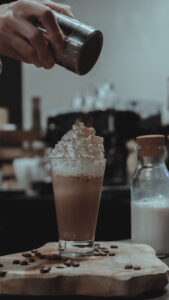 To make this fantastic drink, you only need a few ingredients:
100 ml milk
40 g frappé mix
4 small ice cubes
You can optionally garnish with cream, syrup, cocoa powder or chocolate.
At Café Arabo, we have the best accessories that a good coffee maker needs to facilitate the preparation of frappé, so that you can prepare it comfortably in your hotel or restaurant business. Many recommend using a blender to mix all the ingredients, or a milk foamer.
Steps to prepare a frappé in the hotel and catering industry
In order to prepare a good frappé and leave your customers completely in love, you only need to follow these simple steps:
Have a blender ready to make the frappé.
Add 100 ml of milk.
Add the 40 grams of frappé mix that you like the most (at Arabo we have several flavours available).
Finally, add the 4 ice cubes, and then you can blend the mixture.
You can optionally decorate the frappé (cream, syrup, cocoa powder, chocolate, etc.).
The best thing about this recipe is that it can be totally varied to the barista's taste and add the different flavours we have of frappés with totally unique flavours. The importance simply lies in the mix and the texture it leaves in the frappé, which is what will make the flavour exceptional and, at the same time, refreshing.