Preparing a good coffee is essential for a successful business in the hospitality sector. It is one of the most consumed beverages by people visiting bars, restaurants and even hotels. This is an important challenge for all baristas, which is why having the right coffee machine is essential. In the following article we will explain which are the best capsule coffee machines for the hospitality industry.
What is a capsule coffee machine?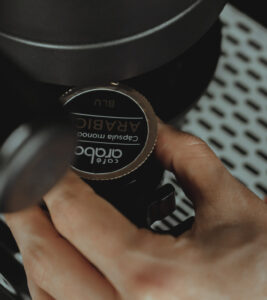 As the name suggests, these types of coffee machines work by means of single-dose capsules, which make it possible to prepare coffee quickly, simply and with incredible results. There are more and more varieties of coffee in pods, as well as alternatives to conventional pods such as biodegradable coffee pods, which respect the environment.
Types of professional capsule coffee machines for the hospitality industry
There are two different options when it comes to choosing a capsule coffee machine for a business in the hotel and catering sector. Firstly, there are the specific single-serve capsule coffee machines. These are coffee machines where individually packaged capsules are introduced, such as those of Cafè Arabo, which are completely sealed and have a nitrogen-modified atmosphere to prevent the coffee from oxidizing. This means that they last much longer than a packet of unopened coffee.
The second option is not to change the professional coffee machine you have in your business, but to change only the arm part so that, instead of being a full coffee machine, it allows you to insert a capsule. This option is more focused on those businesses in the hospitality sector that do not have to prepare such a high volume of coffees per day as a cafeteria, for example. We are talking about businesses such as restaurants, whose core business or main activity is to offer food, but they must be able to serve coffee for desserts. Likewise, this means that you don't have to hire a trained barista to prepare exquisite quality coffee.
Why choose a capsule coffee machine for my restaurant business?
Compared to coffee in pods, single-dose capsules have a longer shelf life, as they do not lose their properties. Likewise, they are ideal when you need to make a large quantity of coffees a day, as they allow you to speed up the time without having to give up the flavour and quality of the coffee. Another peculiarity is that you don't have to change your professional coffee machine to be able to serve capsules, but you only have to incorporate an adapter, as mentioned above. Finally, capsule coffee machines offer an image of professionalism and quality to your business.
Get the best coffee thanks to capsule coffee machines
Being able to offer a quality product to your customers will not only set you apart from the huge competition in the sector, but will also contribute to customer loyalty, which is becoming increasingly difficult in today's world. Thanks to these solutions, you will be able to leave your worries aside and focus on what really matters: the satisfaction of being able to offer an exceptional coffee.